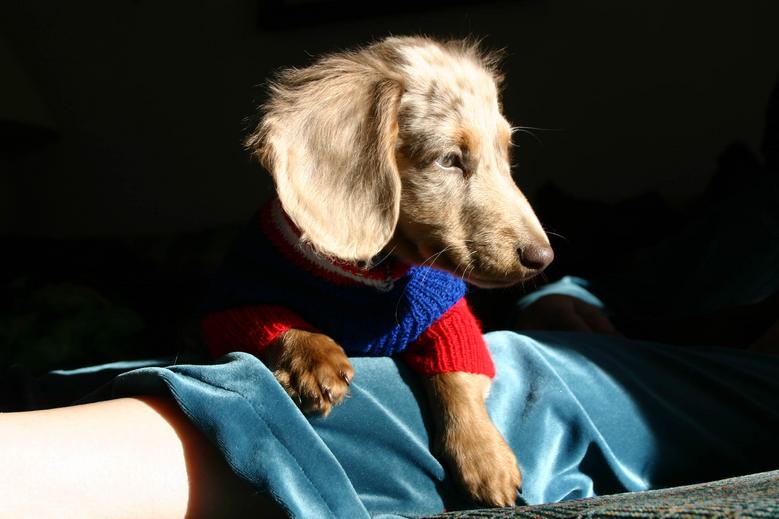 Welcome to Wildwood Ridge, where our little doxie herd roams. We have been raising these adorable pups for over 30 years and loving every moment of it. Besides miniature dachshunds, we also have pygmy goats, rabbits, chickens, pot belly pig and cats . We love our fellow animal companions! : ) Our small farm is located in peaceful Whitesville, Georgia, which is conveniently located off of I-185, one hour south of the Atlanta. airport.
All
of our dogs are very much much a part of the family, and "spoiled rotten". Dachshunds steal your heart with their playful personalities and affection, making it so easy to spoil them. This breed will make an excellent addition to your family. They're a lot like potato chips, you just can't stop at one.
We average a few litters of miniature dachshunds a year. and are very particular about where our babies go. We breed smooth and long coats in a of variety of colors. Our pups consist of Isabella & cream/tan, chocolate & tan/cream, Blue & cream/tan, black & tan, solids and dapples. We are with the pups from birth till they go to their new home. All puppies are in our home till the leave.They are loved on a daily basis and well socialized with our family and other pets.


Dachshunds are very intelligent, confident, bold and alert companions. These lively dogs have a bark bigger than their size. This makes it a great watchdog! "Weiner dogs", as they have been called, make great and fun-loving pets. Living with a dachshund will fill your life with fun!
Please browse our website and check out our newest bundles of joy. Thank you for checking us out.